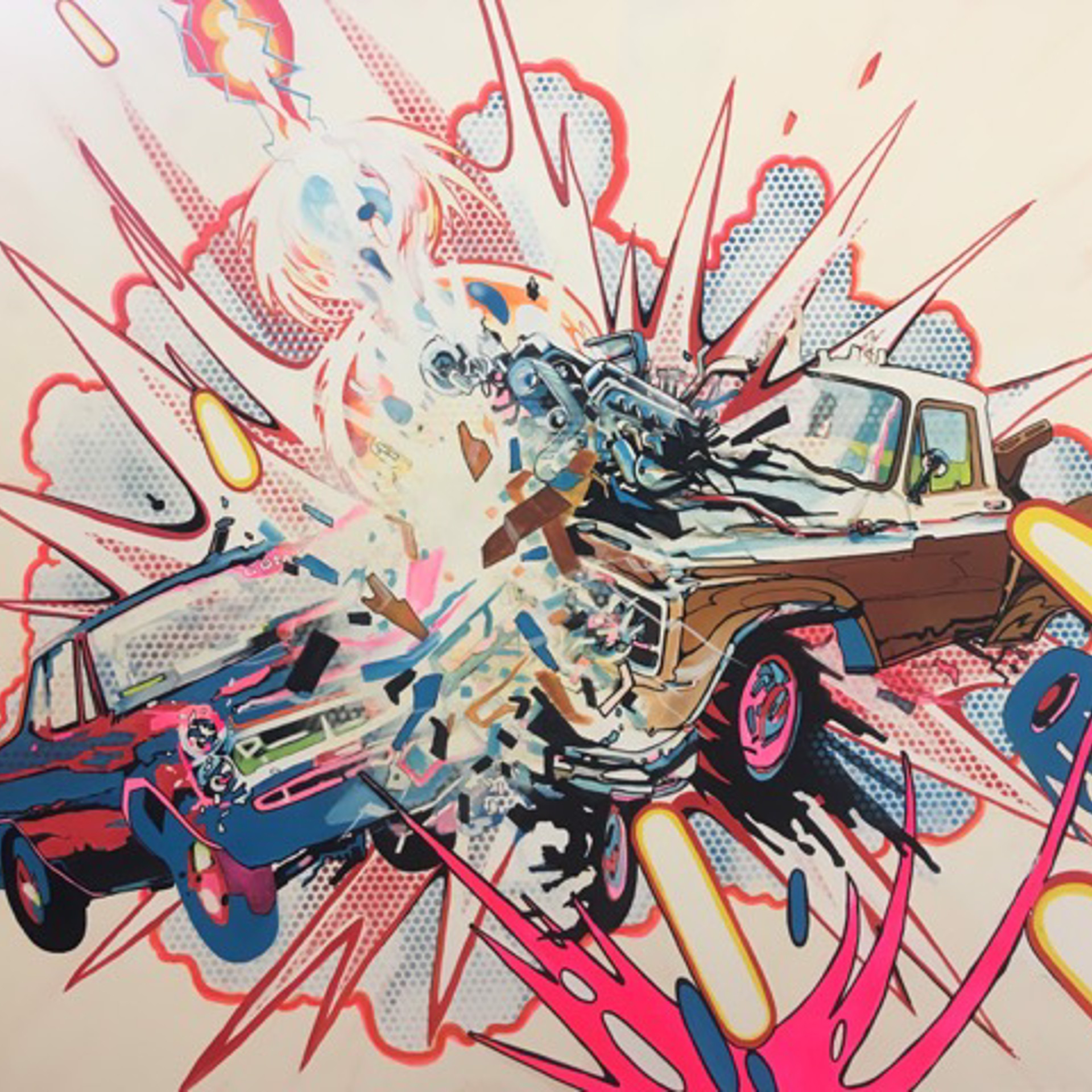 Growing up in England during the 80s, the influence and love of American sub cultures through TV, and being surrounded by large non-spaces of US air bases around East Anglia, gave Currie a slightly odd and romantic view of America. He finished his Masters Degree bronze-casting course at the Royal College of Art in 1999 and have pursued his passion for Art ever since.
"I have built up a body of work that follows the theme of a journey into abstraction, inspired by Robert Smithson, Donald Judd, Fiona Banner, Cornelia Parker, Malevich, Richard Long, Jim Dodge, non-spaces, comics and road movies, surviving four car crashes, my own life and everything else."
Through Currie's series of paintings he exploried a split second look into an object in transit, speed, light, a moment, a motion; a painted road movie. The myth and romantic lure of the open road, the 'now.' The middle bit between the A and the B. The paintings and sculptures represent an alternative comic book future where the Roswell crash was true. Time travel is possible and we all work in space. The 1950s advertised vision of the efficient automated easy living rocket powered nuclear future. He's selling the vision of a desire for speed though fast looking objects. Speed is relevant to that decade's scientific ability to see what is not there. Through two films, 'multi sculptures 24:7,' Currie has created another journey; increasing the magnification on an object to see the other sculptural particles it is made from. These elements live inside each other like individual atoms, going into the sculptures own fabric, core and spirit. In revealing these Internal architectural landscapes, he is following the sculpture's own route into its own endless abstraction.
Read More